KiyoC++ v0.1.0 Released
I've started a new project: a C++ 2D game engine.
I've reached a small milestone where you can use the Tiled level editor to place things around, and can play through a complete level. The game compiles to Windows, Linux and Web (HTML/WASM). Here is what that demo level looks like.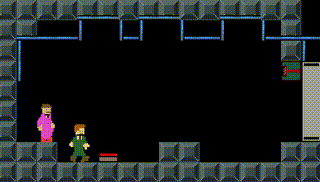 You can play this level here. f for fullscreen works on some browsers.
You can follow the development using this RSS feed. You can give feedback in the box at the bottom of the screen, or contact me on Mastodon.
I'm open to share the engine code on GitHub if people are interested. You can created your own levels using the Tiled Level Editor.

This is meant to be the kind of project I would have liked to follow when I was getting started as a software engineer years ago: someone that blogs the technical aspects of developing a game and shares the source code with interesting technically focused articles along the way. The core audience that may be interested in this project are people that want to learn C++, and are more interested in understanding how to create a game engine from scratch rather than making a game. The path I'm taking is that I don't use any dependency besides SDL2 -- everything is built from scratch, for the pure kick of learning it. For example, the JSON parser was written after reading some chapters from the Dragon Book. Indeed, the fun here is not really to build an awesome game, but rather to geek out in developing the tech around a game engine with interesting demonstrations. This is really not a good recipe to get to a fun game fast, but it's a good recipe to have fun learning along the way.
What I'd like to hear from you (there is a comment box at the bottom of this article) is:
Is there any piece of tech you would like a blog post about?
What would you like to see in the next humble milestone of the game?
If you've played through the first level, feel free to give feedback.
I'm writing this because I think it would be more fun to go through this project with other people, either as contributors or just to receive some feedback.
Roadmap
v0.1.0
[DONE] SDL2 wrapper for renderer (blitting .png, lines), audio, keyboard input.
[DONE] JSON parser able to read a Tiled level and spit-out ready to use GameObject class instances.
[DONE] Reflection system to easily create new objects without having to maintain tedious lists.
[DONE] Minimal 2D collision physics.
[DONE] Makefiles that can compile to Linux, Windows and the Web.
[DONE] Port to Visual Studio.
[DONE] Ability to change levels.
[DONE] Entity system.
[DONE] First fully playable levels with interesting interactions (electricity, magnetism, spawn any object from Tiled property, ...).
[DONE] Share somewhere.
Future / Tech
Complex 2D collisions (convex polygons).
Octree data-structure for efficient collision detection.
All game constants live-editable from configuration files (quickly tweak physics, etc).
SDL2 transparency.
Slopes.
Water and/or gas physics.
Slice / splits what are currently static images (e.g. something gets cut in half).
Universal Data Types (automatic serialization / deserialization).
Waypoints / paths that platform can follow.
Future / Game Related
When player dies, display splash screen with number of lives and respawn at the last checkpoint.
A more fun first level: hostage situation.
Stuff can burn.
Weapons.
Destructable environment.
Dialog boxes.
Better jumping physics (hold = jump further).
Climbing up ladders.
Vertical scrooling.
Controller support.
Mobile support (overlay that user can press to play).
Music (including SDL2 support).